Customisable Applicant Tracking System
Configure your Applicant Tracking System to match your internal processes by tailoring the stages and steps candidates go through on a vacancy by vacancy basis using our recruitment software's tools. While also being able to customise the terminology used throughout our platform to match your internal processes.
Simple drag and drop interface
Applicant management tools
Configurable recruitment stages
Customisable terminology
Automate communication at any stage
Fully audited and reportable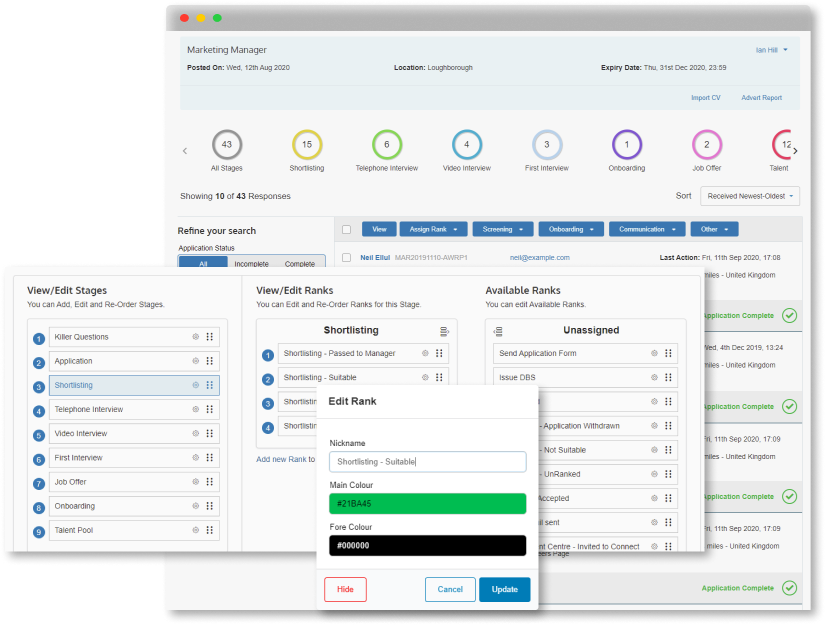 Create customisable automated recruitment workflows in your Applicant Tracking System to remove all of your repetitive high-volume admin tasks such as emailing candidates when they apply for a role, qualifying out candidates that don't meet your criteria and reminding team members to complete tasks.
Unlimited automated recruitment workflows
Automated internal reminders
Automated candidate ranking
Automated communications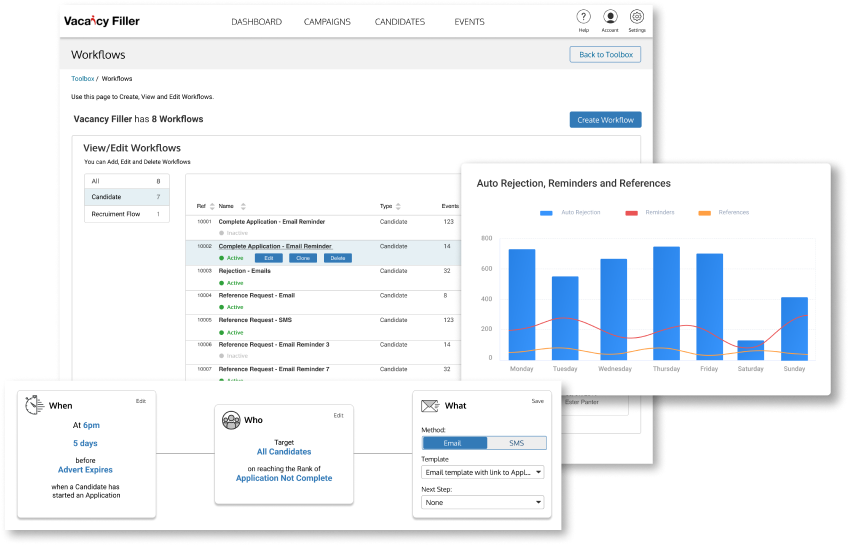 Accelerate your recruitment marketing campaigns with an automated request to recruit process that allows hiring managers to track and gain approval to recruit with one click while coordinating HR, finance and your hiring team within deadlines.
Recruitment automation tools
Customisable requisition forms
One-click approvals
Improve collaboration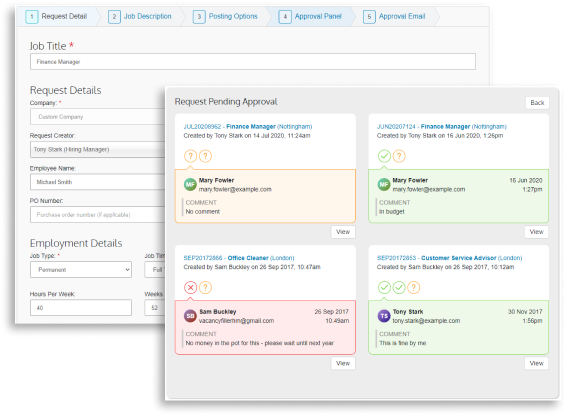 Post your job adverts to a choice of over 70 job boards, your social media pages and your careers website at the click of a button directly from the Applicant Tracking System to make sure your recruitment marketing gets in front of your ideal candidates.
Free job board posting
Indeed, Adzuna, Find a Job and affiliates
70+ leading job board integrations
Industry-specific job board posting
Social media job advert posting
Careers site job advert posting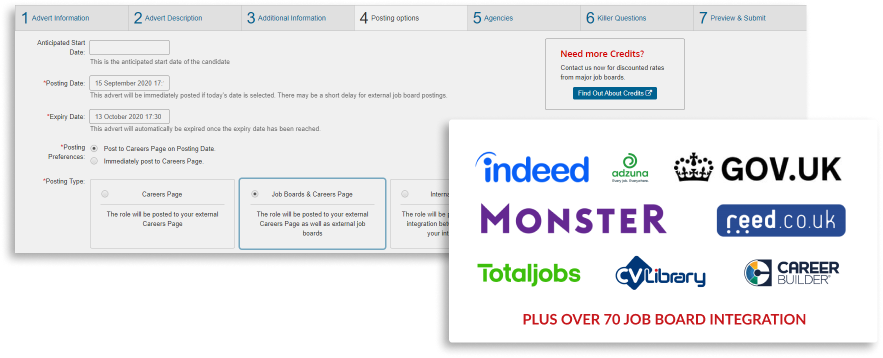 Use automated workflows to send shortlisted candidates on a planned journey using our Applicant Tracking System's tools such as killer questions, skills-based testing and situational judgement tests. While also allowing recruiters to view the anonymised results directly in our recruitment software which will then prompt successful candidates to book a video interview at a time that suits them.
Killer questions
Skills-based testing
Weighted/scored questions
Situational judgment tests
Personality tests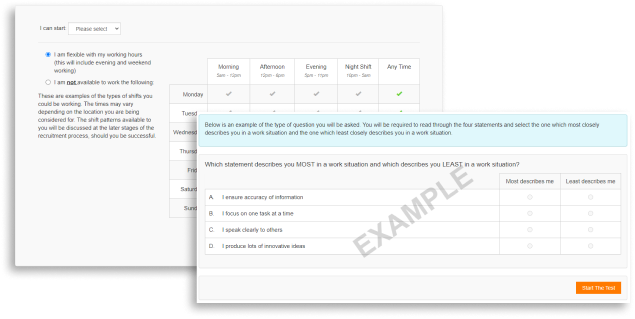 Anonymously assess, rank and score candidates against your person specification in our Applicant Tracking System to ensure your business is meeting its diversity and inclusion goals by removing unconscious bias with an automated and systematic hiring process.
Anonymise candidates' personal data
Candidate scoring/confidential shortlisting
One-click shortlisting and acceptance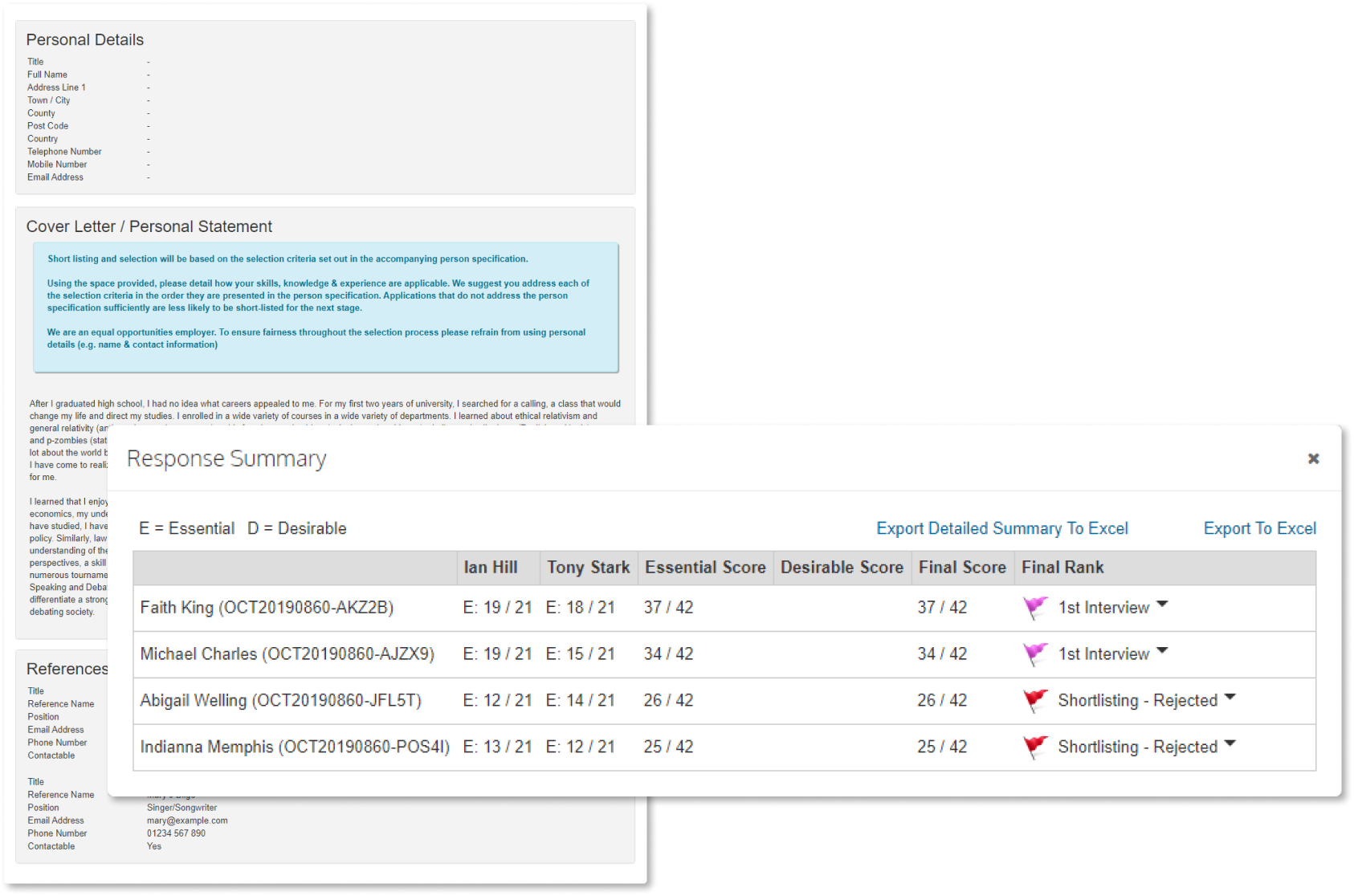 Take advantage of unlimited video screening to save candidates and your business time and money by removing the need for travel. While also allowing candidates to plan and repeat their first interview as many times as they like so they can really let their personality and skills shine.
Unlimited video screening at no extra cost
Configurable video screening questionnaires
Customisable read and answer times per question
Accept and reject candidates with one-click
Agency access at no extra cost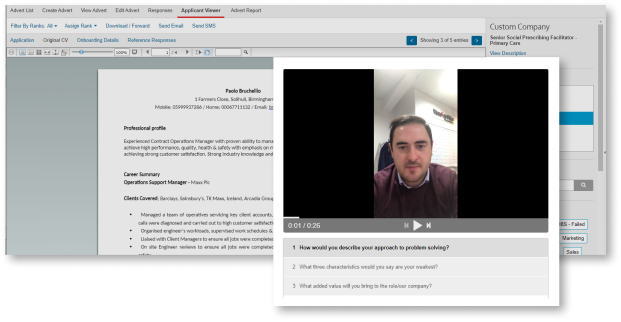 Self-Service Interview Scheduling
Use automated workflows to request shortlisted candidates to digitally book an interview at a time and date that suits them based on your hiring team's availability.
Candidate self-service interview scheduling
1 to 1 interviews or group/session-based interviews for assessment centres
Automatically update the candidates' and recruiters' calendars
Works with Outlook and Gmail or as a standalone recruitment software module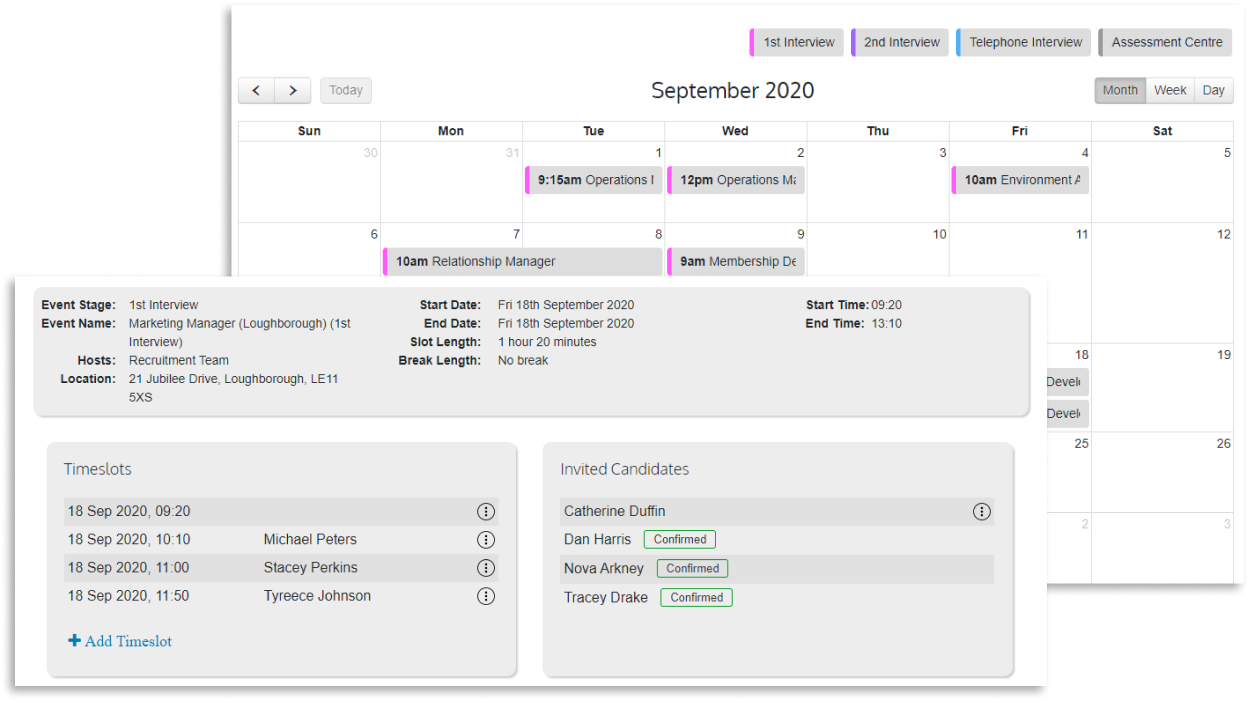 Ensure candidates are always in the loop by sending out fully branded email and SMS communications at any stage of the recruitment process. Whether emails are sent 1 to 1 en masse or automated your candidates will receive a personalised and fully branded email that looks as if it came directly from your recruitment team.
Unlimited email templates
Fully branded emails
Merged fields to personalise communications
Customisable signature
Ad hock or automated communications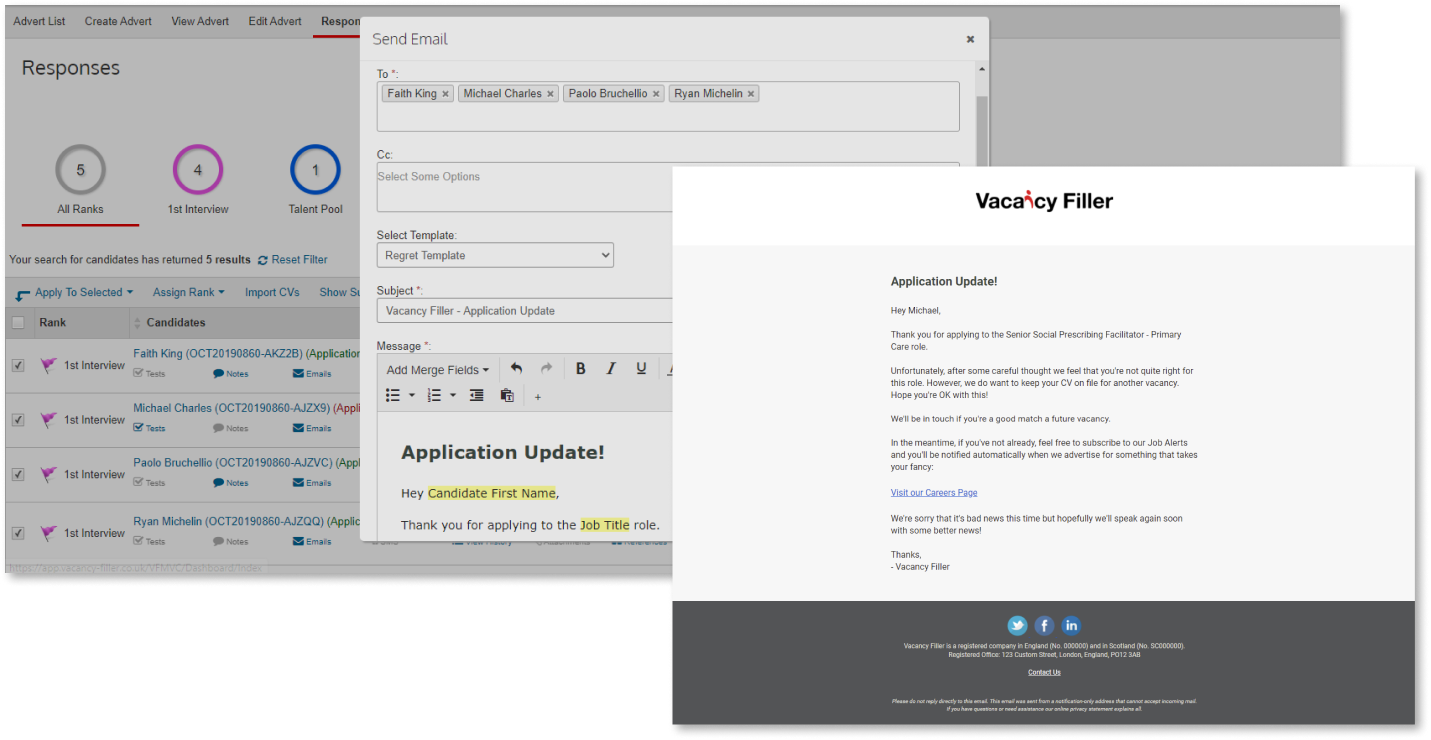 Invite external recruitment agencies to log into your Applicant Tracking System to create their own account to help you manage your preferred suppliers. As soon as they have access you will be able to send your suppliers emails alerting them to any new roles. The agency will then be able to store all of their candidates directly in your Applicant Tracking System.
Give external recruiters access to your Applicant Tracking System
Assign recruiters to specific roles
Keep track of agency referred candidates
Track duplicate candidates and view the original source
Record agency usage and spend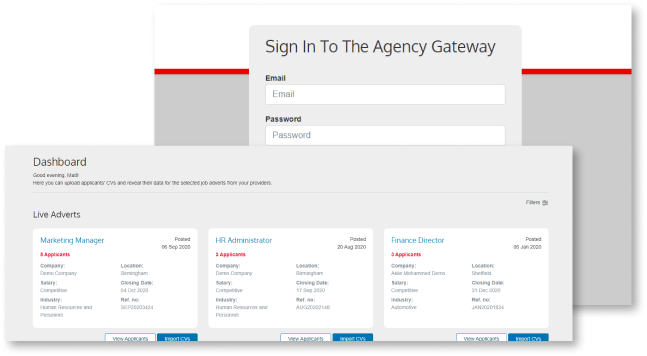 Manage your applicants to build a talent pool that's full of potential candidates which you can sort, engage and nurture directly from your Applicant Tracking System. Allowing you to reduce your time and cost to hire while promoting yourself as an employer of choice.
Candidate tagging to quickly and easily tag candidates for future reference
Search for keywords within CV's and application forms
Saved search & advanced filtering across your candidate database
One-touch branded email & SMS communications
Automated removal of candidate data for GDPR compliance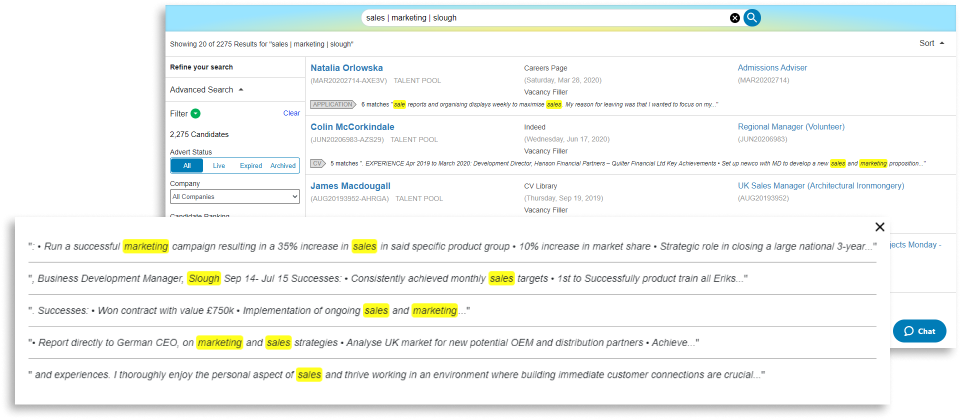 Create custom reporting widgets to display the data and analytics that are important to your business on a configurable recruitment analytics dashboard which is displayed in real-time. Allowing you to use the data to track KPI performance or take action on outstanding tasks.
Over 50 prebuilt reports
Custom widgets
Set KPIs
Customisable dashboards per user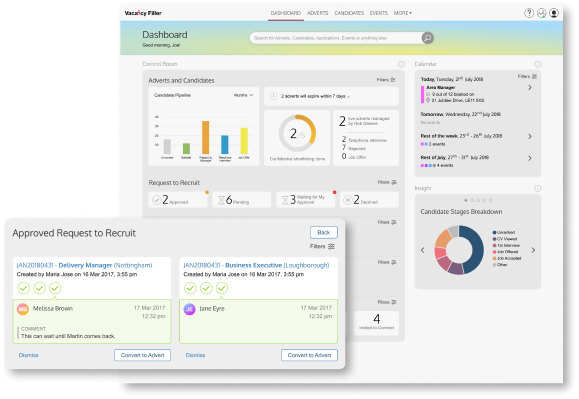 Diversity And Inclusion Reporting
Ensure your company is meeting your diversity and inclusion targets by being able to report on protected characteristics such as gender, ethnicity, religion, disability, criminal conviction and sexuality.
Track characteristics throughout the recruitment process
Automated reports sent to key stakeholders
Export data to external auditors
Disability and criminal conviction reporting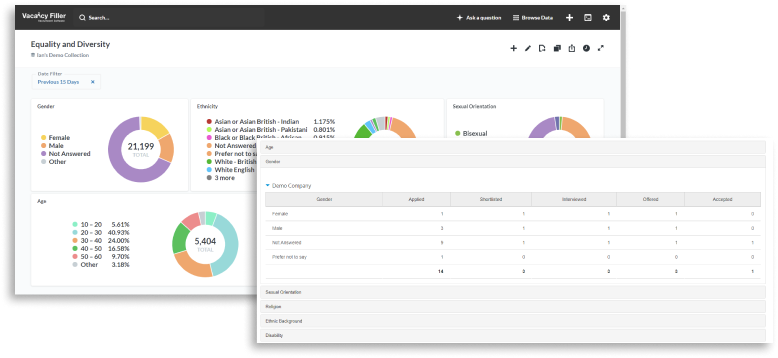 Rest assured that our Applicant Tracking System and all of our recruitment software is fast, responsive, secure and GDPR compliant.
Centralised and protected information
Data stored in the UK
Diversity and inclusion monitoring
GDPR compliant